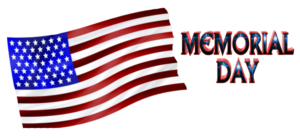 I write this article on the verge of the national holiday of Memorial Day.  Formerly known as Decoration Day, it was the day when families made it a point to get out and put flowers on the graves of their loved ones.  It was also the official start of the summer season; pools are open and barbeque parties are in full swing.  I'm not sure families decorate the graves or tombstones of loved ones as much as they once did or maybe not at all.  I'm not sure any of the younger generation could even tell us why we have a day called Memorial Day or what it's all about.  They are probably not aware of the day set aside every year the last Monday in May to remember and honor those who died in all U.S. wars. But they are certainly aware of another kind of war being fought, here at home and abroad, but not the kind that give out Purple Hearts to the wounded or honor the graves of the dead.
I'm talking about the war with sin, death, and the devil.  None of us get out of that war alive.  When sin entered the world through Adam and Eve, so did death.  Ever since then, the battle rages on in every man, women, and child.  And it always ends in death; no one escapes it.  But our gracious and loving God had a plan, even before the creation of the world, to send His Son.  His Son declared war on the enemy, sin, death, the devil, not by fighting but by surrendering, surrendering to death on the cross.  And what a spectacle they made of Him!  Tortured, whipped, beaten, they threw everything they had at Him, and He took it all.  On the tree on Calvary, He took all of mankind's worst and paid the price, reconciling all of humanity to the Father for all time.  When he said, "It is finished", it truly was finished and after three days in the tomb, the Father showed His acceptance of His sacrifice by raising Him from the dead.  We now wait for His return on Judgement Day when He will declare His final victory and take all believers, the dead and the living, home with Him to eternal paradise and unbelievers, the dead and the living, will be sentenced to eternity in hell.
So, on this Memorial Day when you think about all those who died in war, also think about The One who gave His life for you in the greatest war ever, the war over sin, death, and the devil, over where you will spend eternity.  Come to church on Sunday and hear the Good News of His victory on the cross, the victory that we remember, celebrate, and give thanks for not just on the last Monday in May but every day.  In Jesus name, Amen.
In Him,
Pastor Al
Our mission: "Bringing People to Christ by Bringing Christ to People"